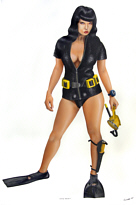 Betty Page poster - 20 x 29 inch size!

"Going Down?" Betty Page


Betty Page , the great American pin-up queen is depicted in this original painting wearing vintage dive gear. The posters are printed on heavy white luster paper at actual size, a full 20 by 29 inches. All the details were captured in this high quality metal plate lithographic print, and it is suitable for framing. This is a limited run of 500 copies and each print is numbered, and signed by the artist (Cal Kothrade).

Betty is wearing a sharkskin beavertail wetsuit top, US Divers stainless steel weight belt, Voit brand combination wrist depth guage and compass, AMF Swimaster knife and black rubber full foot fins just like you remember them.

The original painting was done by hand and airbrush on board using artist acrylics and took about 60 hours of actual painting once all the research material had been collected.

The Original is for sale, contact Cal for more details.